We're here for you 24/7/365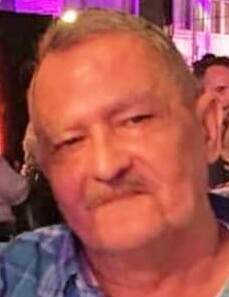 Obituary of Michael Ray Graczyk
Michael Ray Graczyk, 66, passed away in Aurora, CO on October 5, 2021, while holding his beloved husband's hand after a valiant battle against cancer. Born in Sidney, Nebraska, he was adopted by Olive and Ray Graczyk. He was fond of saying that his mother told him that while he may not have been born "under" her heart, he was born IN her heart.
Michael made Denver his home, and he became a pillar of the gay community in the early 1970's. To know Michael was to love him. He was a true warrior against injustice wherever it occurred. If there was a need, great or small, Michael could be counted on to show up, organize, support, fundraise, and, as needed, raise hell. He was in his element when surrounded by like-minded individuals, demanding social justice, building community, and providing help to those in need. He and his husband of nearly 17 years, Christopher Savin, who survives him, were united in this greater purpose. He is also survived by his mother, Olive B. Graczyk, his sister and brother in law, Marianne and Mike Praznik, whom he stood with when they married 44 years ago, and his nieces Rhiannon Wolgram and Dhiannon Triplett. His nieces were important to Michael, and they fondly remember waiting for Uncle Mike to get home from work on Christmas Eves when they were young so that they could open their presents. His niece Rhiannon owes her love of guacamole to his persuading her to try it at her fifth grade continuation exercise. Michael also doted upon and leaves behind his fur babies, Darby and Chance. He is preceded in death by his father, Raymond Graczyk.
Michael also knew how to have fun while being a social pioneer. His drag persona, Michele, made her gorgeous debut at The Apartment, a gay bar near 20th & Lincoln. Michael was a concessionaire at the Gay Rodeo, which is how he and Christopher met. He co-founded Gay Day at Elitch Gardens, and as a decades-long member of The Imperial Court of the Rocky Mountain Empire, Michael was crowned Emperor XXI, The Legend of the Iron Wolf, in 1994. The ICRME was known for its effective fundraising, and under Michael's and his Empress Nicole's leadership, their reign took the funds raised and disbursed to incredible new heights. ***(Approx. $30K)*** He continued to raise money for worthy causes and folks in need his whole life, including during his stint as Polka Dot with the renowned Denver Cycle Sluts, where he served on the first Board of Directors in 2000.
Michael had a gift for doing good, which took many forms over the years. In 1973 he and several roommates had a house in Capitol Hill which became a safe haven for youth who were threatened or unsafe in their own homes. That care and support evolved into Rainbow Alley, which continues to provide counseling and support to LGBTQ youth today. He was a founding Board Member of the Gay Community Center of Colorado, incorporated in 1976, which later became known as just "The Center." This group brought together gay and lesbian groups throughout Colorado's Front Range in the early days of gay activism and empowered them to use their voices not only in the political arena around issues that impacted their ability to live authentically, but also to create a unified and inclusive gay and lesbian community. One of Michael's proudest moments was living to see the first openly gay Governor elected, and he and Christopher attended the inaugural balls. He proudly supported the campaign, the election and the inauguration of his friend, Candi CdeBaca, as the first gay latinx member of the Denver City Council.
Always concerned with those who had the deck stacked against them, Michael was involved with Feeding Denver's Hungry and cared for his unhoused neighbors throughout his life. He was especially invested in the origination of Project Angel Heart, which brought meals and company to clients living with HIV/AIDS. It's still going strong today after expanding to include anyone living with a life-threatening illness. He was active in the Stonewall Democrats, soliciting friends for contributions to their annual sock/underwear drives. He fought alongside ADAPT demanding rights for people with disabilities, supported #MeToo survivors, and showed up for Black Lives Matters actions, including too many vigils for those lost to police violence. He supported progressive candidates for local office, particularly incredibly qualified women of color. He marched and took a stand against hate wherever it appeared, and believed in Parasol Patrol's Mission to shield LGBTQ youth from haters, and was truly in his element when he was in the community he helped create and to which he contributed so much. Michael was always the truest champion for the underdog, and his death leaves a huge void in the hearts of those who loved him. Michael is deeply mourned, but his legacy is so great it cannot be forgotten. His desire was that it would show the path forward and provide the inspiration to light the way for the generations to follow.